Kevin Knight explains the thought behind the design of this fabulous home in Ealy Crossing
push play to see a video interview with the builder of this fabulous home
Kevin Knight admits to liking a good surprise. The acclaimed custom home builder tries to build them into his projects whenever possible. In a collaboration with respected architect Brian Kent Jones, Knight has pulled off an inspiring, modern surprise behind the doors of a timeless Jeffersonian facade in one of central Ohio's hottest zip codes.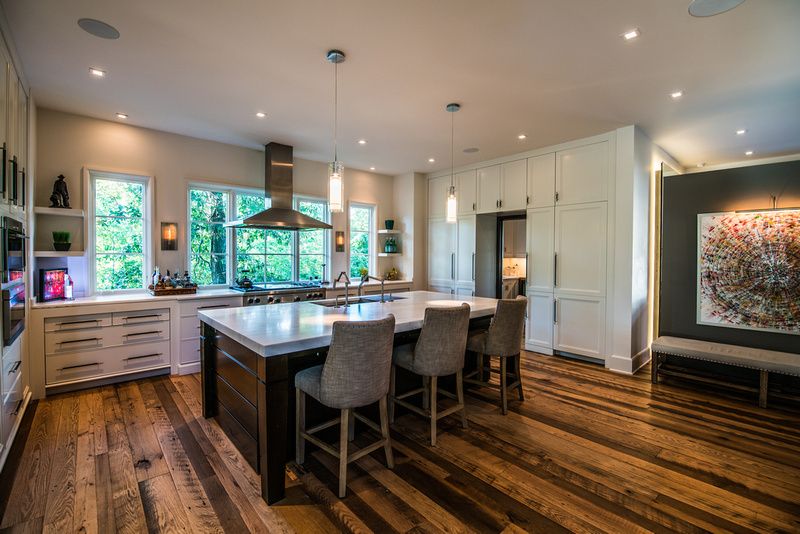 25 Ealy Crossing rises above the street as though sitting atop a plinth. The wide steps leading to the generous porch are bordered by a tiered landscape, reminiscent of the iconic Monticello estate of Thomas Jefferson. The impressive home is situated comfortably at the end of a quiet street in New Albany, where brick Georgians are celebrated. But upon stepping inside, guests are greeted by a degree of appointment and detail that is unmatched in most homes - even in an area associated with luxury living.
Living areas that are gracious and open are scaled in such a way as to be not at all overwhelming. Wood flooring in varying shades of honey and warm brown was reclaimed from salvaged Ohio barns, grounding the contemporary touches throughout the residence in a bit of history. A large fireplace anchors the main sitting area, with whitewashed shiplap backsplash brightening up the adjacent kitchen. A wall of windows behind the commercial-grade chef 's range offers plenty of wildlife-watching while tending to meals. Dry carrera marble countertops and leather-wrapped chrome hardware accent the simple cabinetry, creating a sleek, tidy kitchen. Steps away, a scullery does double duty as a catering kitchen and beverage station, with butcher block prep area, appliance storage and plenty of extra fridge space for wine and service.
A nanadoor system allows the large screened in porch to become an extension of the eating and living spaces in warmer weather. Across the back of the house, ample windows provide near-uninterrupted views of the amazingly lap pool, sauna and fireplace. A spacious side yard gives grassy relief from the impressive stonework, and leads to a detached garage turned ultimate party room. Large, glass-paneled garage doors overlook the picturesque, private outdoor living area, lending wonderful versatility to entertaining options. An arbored walkway leads back to the house or out to the street.
From the side yard, a garden / utility room is a stunning segue from indoor to outdoor living. Flooded with natural light, the long room houses laundry, mudroom and a gardening nook. Exposed brick floors lead to the half bath - and yet another charming surprise: a substantial chunk of limestone, quarried over 100 years ago and reclaimed from a church. Years in the "boneyard" of a local stone supplier have contributed to a natural, honed surface. Hand-dished into a shallow basin, the stone that was used for masses, funerals and weddings is now a celebrated design element. High windows and frosted glass panes borrow light from the adjacent room.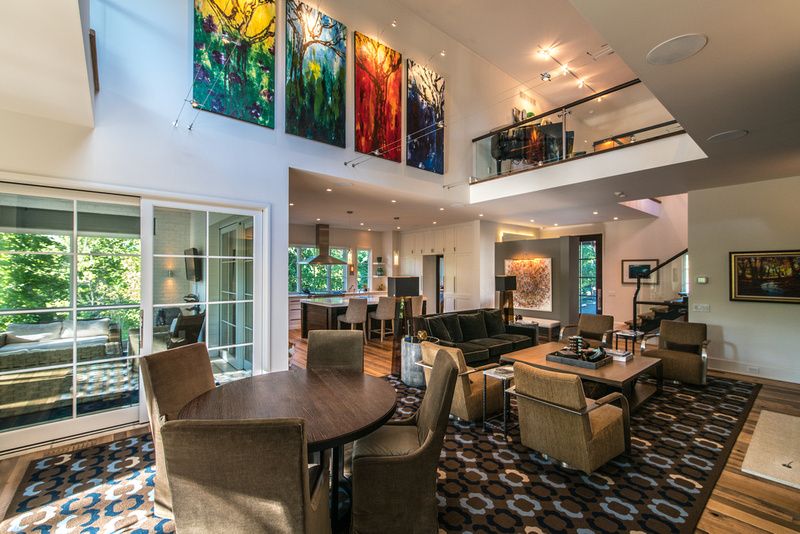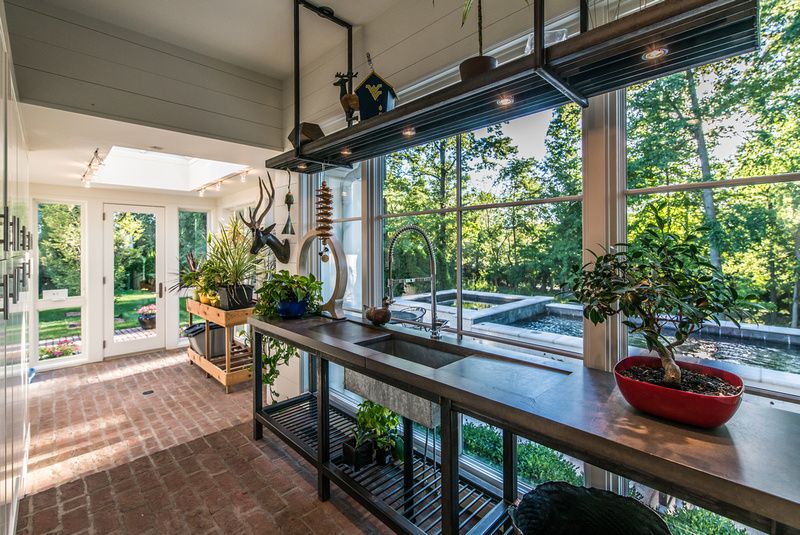 Circling back to the front of the house, floating stairs lead to three uniquely appointed bedroom suites. The first, a corner room, boasts a treehouse-inspired loft replete with rustic wood ladder. The second, characterized by Knight as perfect for the "Princess of Have-A-Lot from the kingdom of Not Enough", is accessed by a private hall and offers a 270 degree view thanks to windows on three walls. The soaring cupola completes the Rapunzel-esque feel. On this floor, the pinnacle suite is, of course, the master. The sumptuous sleeping quarters include a cozy fireplace, rich wood built-ins and an independent balcony overlooking the back. The bath is elegantly understated and continues the emphasis on natural light found throughout the room. A homeowner with a sense of humor, the man of the house has maintained a large metal spoon sculpture in the "soup bowl" of a soaking tub. The grand shower is a wonderful opulence, with the entire setting providing a very Zen experience.
Descending to the basement, a wine room maximizes a corner nook with an impressive white oak timber securing a live-edge black walnut slab bar. Deep window wells bring the outside in and natural elements maintain strong continuity from main living areas.
Knight describes the homeowner as a highly successful individual who came from a humble background and "approached the opportunity to build a dream home as a gift. It was joy to produce for someone like that." Smart design and solid construction is an expectation in the custom home design and build world, but when it comes nailing the delicate balance between timeless and timely, and nding the cross section of lavish and understated, a project by Kevin Knight and Brian Kent Jones is a hard opportunity to ignore.
To see more photos and detailed information about the property: Click Here
Written by Amelia Jeffers / Photos and Video: Mark Neff Team